The Mask & Puppet Company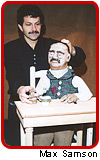 The Company primarily designs and builds puppets of varying styles to perform in our own independent Theatrical productions or in collaboration with other local theater companies. In recent years we have collaborated with the renowned Theatre X, an Obie winning experimental theater group, with First Stage Children's Theatre, one of the premiere children's theaters in the US, and with the Milwaukee Public Theater.

Over the last decade we have toured extensively in the Milwaukee area including Summerfest, Winterfest, the Public Museum, the Betty Brin Children's museum, the Brady Street and Third Ward Festivals, the Peck Pavilion, various youth centers and many schools and parks.

Our shows are eclectic featuring many styles of puppets including hand puppets, 12 inch to 18 foot rod puppets, backpack mounted puppets, marionettes, small modified tabletop bunraku and full sized bunraku puppets, strange and unique odd constructions, and varied masks. You can see some of them in our PHOTO GALLERY.

Most of the shows we work on are original pieces or adapted folk tales. Music is an integral element in our productions. You can check them out at PAST SHOWS.

The Company also runs series of workshops for youth at schools and youth clubs throughout the Milwaukee area, most of which culminate in performances.

Founder and Artistic Director Max Samson first worked with puppets with the Bread and Puppet Theatre in 1970 in New York City and on a tour of the Southern United States.

He founded the Heavy Bulky Puppet Theatre in Israel which toured Europe in 1973. Other members who work with the current company are Jeffrey Holub, Michael Pettit, and Ian Tews.